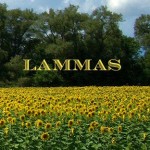 On the Wiccan Wheel of the Year, the festival of Lammas or Lughnasadh is a traditional time to show appreciation for prosperity and an opportunity to generate more of the same. It's also your chance to evaluate the progress of your dreams and goals and to take steps towards their completion.
If you took advantage of yesterday's full blue moon to charge your Witches' tools and talismans, you will be assured of extra power and energy in your spellwork.
Lammas or Lughnasadh Correspondences
Colours and Candles: gold, yellow
Flowers: gladiolus, nasturtium, yarrow, sunflower
Stones: aventurine, topaz, amber, cat's eye
Lammas Seasonal Menu
Light red wine or chianti
Ratatouille*
Nasturtium & greens salad,
Zucchini walnut cake*
Watermelon
Lammas Spell for Prosperity and Appreciation
If you need a Lammas spell, you'll find the full ritual ceremony in my Simple Wiccan Magick Spells ™  Wheel of the Year eBook, along with recipes* to celebrate this festival.
The next Dark Moon falls on August 14, so check back early for spell and ritual suggestions.
Blessed be!
© 2015, Holly Zurich. All rights reserved.