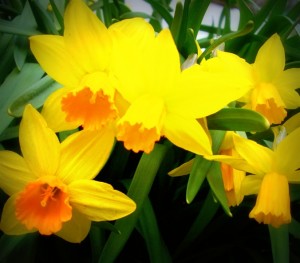 This ritual helps dispel negative energy and emotions and celebrates the return of joy.  Now that Spring is finally here, the days grow longer and we anticipate the start of a new life.
Carve a yellow candle with the Rune symbol for JOY.
Take a cleansing herbal bath with the lit candle and talisman or amulet, which you have created,  close by. As you are soaking, imagine that all negative energy and sadness are leaving you. Picture the world outside, with slowly melting snow and new life waiting to blossom beneath the cold earth. Now, visualize the days lengthening with more sunlight to feed the growing young shoots. Feel that the same energy is revitalising your own spirit as well.
Say: AS THE FLOWERS BLOSSOM,SO DO I. MY HEART IS FILLED WITH JOY AND ANTICIPATION, FOR I AM DESERVING OF A LIFE FULL OF LOVE.
When you are ready, empty the tub and imagine that all negative energy is washed down the drain. Let the candle burn out completely in a safe place.
Carry the amulet with you. At least twice a day, repeat the above affirmation. Watch as the days continue to grow longer. There may be setbacks in your emotions, somewhat equivalent to more snowy or chilly days, but be aware of the positive changes as the first days of Spring .
Wiccan Amulet for Joy
Add any or all of  these herbes for the most powerful effect:
Angelica for joyful, positive energy
Borage to fortify your inner self
Clary Sage for healing
Mugwort for stamina
Dill to repel negative energy
Chamomile,  Eyebright,  Ladies' Mantle,  Blessed Thistle,  Lovage,  Periwinkle,  Roses,  Rowan,  Hyssop
Lavender Bath: Lavender,  Roses,  Lovage,  Lemon Balm, Bath Salts
Blessed be!
©Holly Zurich 2011
© 2011 – 2014, Holly Zurich. All rights reserved.