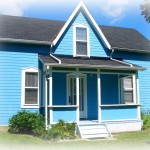 You can use Witchcraft or Wiccan magick to help you find a new place to live.
Take a cleansing herbal bath and focus your intent. Picture the home of your dreams, exactly as you would like it to be.  Where is it located? What special features does it possess?  How will your favourite furnishings fit in?
When you are done, set your altar as outlined in my eBook, Simple Wiccan Magick Spells & Ritual Ceremony. Cleanse a blue and green candles and carve the blue candle with the rune symbols for JOY and FERTILITY, and the green candle with POSSESSIONS. Anoint both candles and place them as you choose on the altar.
Light the incense, place an amulet – a key would work well here – in the centre of your altar and close the circle. Call to Juno, Goddess of the home, saying:
GODDESS JUNO, HEAR ME WELL FIND A HOME FOR MY HEART TO DWELL
SPIRIT AND SOUL, BODY AND MIND, HEAR ME JUNO, GODDESS BE KIND!
Visualize finding the perfect space and write a detailed description of it on a piece of paper. Create your talisman as usual, then open the circle and let the candles safely burn themselves out. Put the paper next to your amulet and carry both with you at all times.
Every night, re-write your description in your Book of Shadows before you go to sleep and visualize yourself in your new, happy home! Blessed be!
Supplies:
Talisman Herbes:  Use any or all of the following:
Agrimony
Broom
Chamomile
Dill
Eyebright
Cedar
Ladies' Mantle
Lavender
Motherwort
Rowan
© Holly Zurich 2011
© 2011 – 2016, Holly Zurich. All rights reserved.