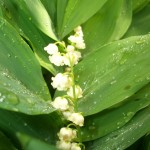 Though there are no strict ceremonies to follow for Wiccan weddings or handfastings and your vows may be for "a year and a day," "for all eternity" or "for as long as love shall last," you might want to include some time-honoured elements on your special day.  The following flowers and herbs are traditionally associated with handfasting.
Roses – represent Aphrodite, Goddess of Love
Ivy – fidelity
Rosemary
Yarrow
Broom – tied with colourful ribbons
Verbena or Vervain
These other flowers can also be added to the bouquet, or used in corsages, boutonnieres and table arrangements:
Sunflowers – happiness and protection
Iris –romance and loving companionship
Peony – protection
Lily of the Vally – aphrodisiac
Lavender – bring stability and bless a home
Flowers gathered from your garden or bought at a market are more eco-friendly and economical. One charming way to use Wiccan traditional handfasting flowers and herbs is to decorate wedding favours, like a tiny box of candies, with a sprig of rosemary.
Even though I like to keep things simple here and in my ebook, The Master Book of Herbalism is a wonderful reference for those wishing to delve deeper into the magickal meanings and uses of many herbs and flowers. I highly recommend it.
Blessed be!
© 2011 – 2014, Holly Zurich. All rights reserved.