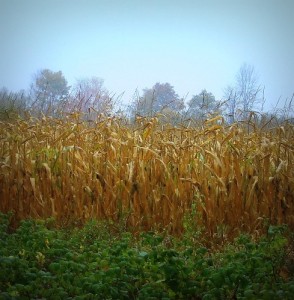 On the Wiccan Wheel of the Year, the Autumn Equinox sabbat is the time for rest after labour.  The date varies annually between September 21 and 24, but according to The Witches Almanac , this year it lands on September 23.  As the year winds down, we need organisation and self-discipline to help us through the coming winter.  This ritual will help you gain insight into the future course of your life.
Light some sage incense, close the Circle and summon the four elements and the Great Goddess.
Jewelled Cob Meditation for Autumn Equinox Sabbat
Imagine that you are walking though a harvested cornfield.  Alone with your thoughts under a clear fall sky, you ponder the course of the year so far.  What have you dreamed of?  What have you accomplished?  What dreams have you neglected to fulfil? You pause for a moment, taking note of the dried corn stalks around you.
As you walk to the edge of the field, you notice one remaining green stalk, with a fresh ear of corn still attached.  You snap off the corn and peel the husk. Instead of yellow kernels, the cob is studded with jewels and precious metals. Remember what you see and complete your ritual as usual.
If you saw emeralds, love is in your future. Gold equals good fortune and jade symbolises physical healing. Discover more Jewelled Cob meanings, like pearls, diamonds and garnets in my eBook, along with Autumn Equinox recipes for herbed chicken with rice & fall vegetables and orange-pecan cookies.
Blessed be!
© 2011 – 2014, Holly Zurich. All rights reserved.