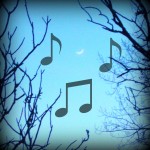 Should you listen to music during spellwork and ritual?  Absolutely, if you feel it won't distract you from the magick at hand.  I always listen to music while I'm preparing the altar and during the actual ritual.  Though selection is a personal choice, I find music by Enya to be perfectly suited to Wiccan ceremonies.
Her CD In Memory of Trees is my favourite and I'll program several tracks before I close the Circle.
The music of Loreena McKennitt is also atmospheric and creates an ideal background for your spellwork.
Look through the New Age music section to find works by other talented musicians. You may find you'll listen to them during ceremony and throughout your day.  Do you listen to music during ritual and if so, who is your favourite artist?
Blessed be!
© 2011 – 2016, Holly Zurich. All rights reserved.