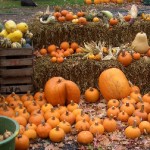 October 31st is the Wiccan New Year.  At Samhain, we give thanks for the past year's blessings and celebrate new beginnings.  Samhain is also the time for remembrance and release, where we recall our past, including departed loved ones, family and friends and even animal companions. Part of creating a good future is to release the negative energies of the past.
Correspondences for Samhain
Set your altar with black and orange or copper-coloured candles. Use lavender or patchouli oil and cedar incense.  Decorate your surroundings with seasonal flowers, like mums, calendula and cosmos.  Apples, nuts and sage are also appropriate correspondences for Samhain.
After you complete your ritual, celebrate new beginnings and a prosperous future with a feast of apple cider, beef & beer stew and pumpkin spice muffins.  A complete Samhain ritual and these recipes appears in my Simple Wiccan Magick Spells & Ritual Ceremony eBook, which can be safely ordered online and read as a PDF or Word document.
Blessed be and Happy New Year!
© 2011 – 2014, Holly Zurich. All rights reserved.