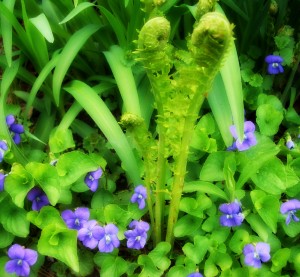 The Witches' Sabbat of Spring Equinox will take place on March 20, 2012. Eostre or Ostara was the Goddess of Spring and in ancient times, old fires were extinguished, grates cleaned and new fires were lit.  This is the origin of our modern tradition of spring cleaning.
At the Spring or Vernal Equinox, the hours of light and darkness are of equal length.  Now is the perfect time to perform spells to find balance in your life or to cleanse your mind, body and home of old, negative influences and replace them with fresh, positive ideals.
Decorate your altar with spring flowers, like crocus, tulips and daffodils and light pastel-coloured candles, like mauve, pink and pale green. Burn lavender incense and use lily of the valley oil.
Celebrate this Wiccan festival by serving a meal with eggs, fresh greens, lamb and barley stew and hot-crossed buns.
My eBook Simple Wiccan Magick Spells & Ritual Ceremony, is an introduction to the Wheel of the Year and contains correspondences, recipes and a spell to find balance in your life.
Blessed be!
© 2012 – 2014, Holly Zurich. All rights reserved.