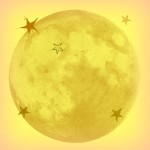 The full moon on May 5th is known as Flower Moon or Merry Moon. Corresponding flowers are lily of the valley and foxglove; stones are emerald and amber. Sun sign Taurus, (April 21 – May 21), is in force for most of the month, indicating a full water moon in Scorpio.
A Scorpio moon is an ideal time for warrior spells to win battles and increase personal power, courage and charisma.  You can create a personal power talisman or amulet to increase your chances of success in any endeavour. Magickal talismans are usually filled with herbs, but you can substitute a favourite piece of your own jewellery for this purpose.
May 5 Full Moon is a Supermoon
Saturday's full moon will be closer to the earth than usual and will be bigger and brighter as well. It will seem largest right after sunset, as it rises above the horizon.
See my earlier post about a simple spell to create a personal power talisman using the super energy of the May 5 full supermoon.
I am currently compiling a reference guide for full moon spells,which will include 13 rituals and appropriate recipes. I hope to have it ready for you as an eBook before the next full moon.
Blessed be!
© 2012 – 2014, Holly Zurich. All rights reserved.