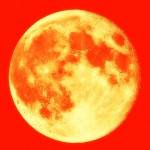 The August 2 full moon in Aquarius is an ideal time for networking, resolving disputes and using personal power for the greater good.
This full moon is also called Corn Moon, Barley Moon or Sturgeon Moon. Corresponding flowers are gladiolas, poppies and sunflowers; stones are sardonyx, peridot and cat's eye.
Set your altar with the above flowers and stones and use jasmine insence and oil.  If you wish, you may reuse your August 1st Lammas altar set up, which also calls for gladiolas and sunflowers.
Charge your Witches' Tools
The close proximity of a Wheel of the Year festival to the full moon will create super energy and powerful vibrations to help manifest magick. It's also an ideal time to cleanse and charge your tools and herbes.
Seasonal Full Moon Recipes
Suggested seasonal recipes for your full moon feast include Basil, Spinach, Red Pepper & Pepperoni Pizza, followed by Peach Clafouti. These recipes and complete full moon rituals are available in my eBook Simple Wiccan Magick Spells and Full Moon Rituals.
A second full moon in August 2012 occurs on August 31 in sun sign Virgo, placing the full blue moon in Pisces.
Blessed be!
© 2012 – 2014, Holly Zurich. All rights reserved.