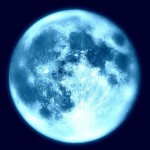 In August 2012, there will be two full moons. The second one falls on August 31st. Though some sources declare that a blue moon is the second full moon in a month, the Farmers' Almanac definition of a blue moon is the third full moon in a season with four full moons. As each season normally has only three full moons with specific names for each, such as Harvest Moon, Rose Moon or Wolf Moon, an additional full moon could cause confusion, so the third one is called blue.
Others believe a true blue moon only happens once every three or four years, when a full moon occurs twice within the same astrological sign.
While some sources consider the August 31st full moon a blue moon, this suits neither the Farmers' Almanac definition nor those who say both moons must fall within the same zodiac sign.
Pisces Full Blue Moon Spell for Clairvoyant Powers
Regardless of what you believe, the August 31st full moon is an ideal time for potent spellmaking.  When you are celebrating the blue moon, you may follow the appropriate ritual of the zodiac sign opposite the one in play.  For example, the August 31st full blue moon in sun sign Virgo is a Pisces full water moon. This is an ideal time for spells and rituals to increase your clairvoyant powers and to tell fortunes and interpret dreams.  
Psychic powers are heightened now, as is your ability to communicate with the spirit world.  My eBook Simple Wiccan Magick Spells and Ritual Ceremony has a Samhain ritual for communing with those who have passed to the other side and Simple Wiccan Magick Full Moon Spells & Rituals has one for increasing your psychic powers.
Create Your Own Full Blue Moon Spell
You can also choose a different spell of your own desire or create one using the correspondences in my books.  Whatever you decide, know that the universe will be tuned in to your vibrations in a powerful way.
Blessed be!
© 2012 – 2014, Holly Zurich. All rights reserved.