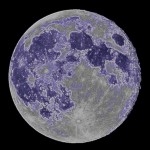 The full moon on November 28 is known as Beaver Moon, Dark Moon or Fog Moon. Popular Wiccan spells for this full moon in Gemini relate to communications.  It's a good opportunity to contact others or clear up misunderstandings through letter writing, phone calls or face-to-face meetings. It's also an ideal time for travel.
November 28, 2012 Lunar Eclipse Viewing
A lunar eclipse will also occur on November 28, visible to observers in western Canada and the United States, Alaska, Hawaii, Australia, New Zealand and much of Asia. Those in eastern Canada and USA will be unable to see the eclipse as it starts after the moon sets.
Stones associated with the month of November are yellow topaz and citrine and traditional flowers are chrysanthemums.
Wiccan Full Moon in Gemini Spell
In my eBook Simple Wiccan Magick Full Moon Spells and Rituals, you will find a spell for better communications, using jasmine oil and incense for your altar and a blue candle during ritual. You can also create your own spell, following the instructions in my Samhain posts during October 2012.
Menu for Gemini Full Moon
After your spell work, celebrate the full moon and the lunar eclipse with a bacon-leek frittata and chocolate-coffee truffles. Recipes are found in my eBook.
Blessed be!
© 2012 – 2014, Holly Zurich. All rights reserved.