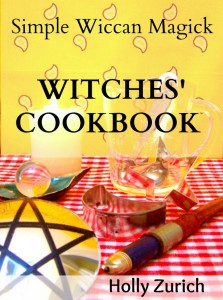 My fifth book on Wiccan traditions contains a collection of 20 seasonally-inspired menus with 56 delicious recipes for celebrating the 12 Full Moons and 8 sabbats on the Wheel of the Year. Compiled and expanded from the popular Simple Wiccan Magick books Spells & Ritual Ceremony and Full Moon Spells & Rituals, all recipes are newly revised with both metric and imperial measures for international cookery.
You may already have your own book of spells or be a Neo-Pagan who doesn't practice magick. However, if you celebrate any of the full moons or festivals on the Wheel of the Year, this cook book is for you, with easy-to-make, appetizing meals created to honour those special days.
Available now on Smashwords, Amazon, Barnes & Noble, iTunes and Kobo.
Bon appétit and blessed be!
© 2013 – 2014, Holly Zurich. All rights reserved.