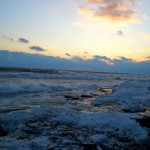 Imbolc or Candlemas is the feast of the waxing light and a traditional time for Wiccan initiation.  To honour the Celtic Fire Goddess Brigit (also known as Bride and Brid), in her maiden aspect, we wear white robes and light many white candles.
Correspondences for Imbolc
Flowers are primrose, snowdrops and any others with white blossoms. Candles and colours are aqua, white or silver. Incense is sandalwood and stones are crystal, amethyst and rose quartz.
One of the dominant themes for February is "energy flowing beneath the surface," which can take on many symbolic meanings. If you need inspiration for your own Imbolc ritual, my Wheel of the Year Guide has a potent spell designed to help identify any blocked energy – love, creativity, etc. you may be experiencing and to free it for your personal use. Recipes are also included for a seasonal feast.
Blessed be!
© 2013 – 2014, Holly Zurich. All rights reserved.