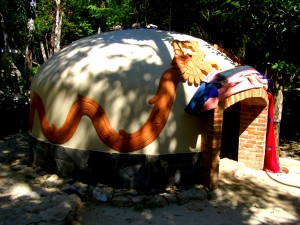 During a recent trip to the Mayan Riviera I was able to participate in an authentic Mayan temazcal.  I had been searching for inspiration and physical healing, hence my vacation to Mexico.  I hoped that walking on the beach, swimming in the ocean and eating fresh, simple foods would be sufficient to generate a feeling of renewal but more was needed.
I met a very interesting, spiritual woman at a yoga class who asked if I planned to attend the temazcal later in the week.  I hadn't even known that one was available! I soon realized that the Universe was working to meet my request.
It was truly amazing on many levels  – the physical heat of the steaming volcanic rocks, the emotional impact of chanting and singing and the spiritual afterglow.  It was a moment I will always remember.
Before the ceremony, the Shaman greeted the four directions, just as Wiccans do when we cast our circle. Six of us participated and I was honoured when he asked me to hold the goblet and act as priestess.
Inside, the dome was extremely hot and totally dark, as the water extinguished any light from the burning volcanic rocks. During the ceremony, the Shaman brought us through the four seasons, relating each to a stage in our lives. Thankfully, after each season, the blankets were removed from the door so we could have a break from the intense steamy heat. At the end, we were "baptized" with a herbal infusion.
The entire ritual was an incredible experience for me and for the others who attended.
Blessed be!
© 2013 – 2014, Holly Zurich. All rights reserved.