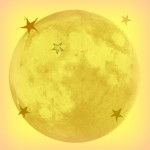 JULY FULL MOON IN CAPRICORN ~
Sun in Cancer ~ June 22 – July 23
The July full moon is known as Thunder Moon, Shallow Moon or Hay Moon.
July Full Moon Correspondences
Flowers are honeysuckle and jasmine; stones are ruby and moonstone.
SPELL FOR CAREER CONFIDENCE
Because the full moon falls during the period of the Sun sign Cancer, (June 22 – July 23), the full moon is in the opposite sign of Capricorn.  This full earth moon is suitable for spell work supporting career advancement, improving social status and planning for the future. It's also an appropriate time to eliminate the deadwood, the old and extraneous in order to reap the positive rewards of your labours.
This spell helps to remove your doubts and fears so you can attract more success. If you need such a spell or would like more information on this and other full moons, you can download my eBook Full Moon Spells and Rituals through Amazon or Apple, Kobo or Barnes and Noble.
Blessed be!
© 2013 – 2014, Holly Zurich. All rights reserved.