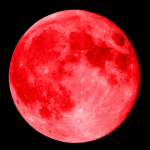 The October full moon is called Hunter's Moon, Falling Leaf Moon or Blood Moon.  As it appears in the sun sign Libra, (September 23 – October 24), the full moon will be in the opposite sign of Aries.
You can use this full fire moon to cleanse and charge your Witches' tools before Samhain, the Wiccan New Year on October 31st.
A penumbral lunar eclipse takes place on October 18, which means that a portion of the earth's shadow falls on the moon.  This will appear as a slight dimming on the lower left side of the moon and will not affect it's magickal powers.
October Correspondences
Flowers: calendula and marigold
Stones: morganite or pink emerald, opals and tourmaline
Spells & Rituals for Full Fire Moon in Aries
A full moon in Aries exudes positive energy and enhances your enthusiasm. Opportunities are ripe for boldness, daring deeds and audacity.  Choose your own spells and rituals to harness this energy, or follow the Spell for Enthusiasm in my Simple Wiccan Magick Full Moon Spells and Rituals eBook.
Suggested full moon recipes include Ginger Chicken Stew and Carrot Cake with Chocolate Glaze, available in my moon spells book or the Witches' Cook Book. Or use any of your own recipes that celebrate the seasonal bounty of October.
Blessed be!
© 2013 – 2014, Holly Zurich. All rights reserved.