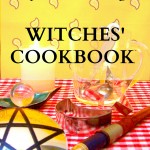 October 31st is Samhain, the Witches' New Year.  Some consider it to be the most important festival, or sabbat, on the Wiccan Wheel of the Year. It's also Halloween.
Samhain is a time for remembering our past, including departed friends and loved ones.  It's also a time for spells and rituals for new beginnings and future plans. Part of creating a good future is to release any negative energy that may be holding you back. However, as nature always fills a void, you must ask that positive vibrations replace it.
Along with Yule, (Christmas) and Ostara, (Easter), Samhain is one of several Pagan celebrations that have been "borrowed" by Christianity.  Most likely this was done to make the transition to their new religion more tolerable for our ancestors
SAMHAIN CORRESPONDENCES
COLOURS: black, orange, copper
OIL: patchouli, cedar, lavender
PHILTRE: sage, mullein, dittany of crete, rosemary, rowan berries, rue, wormwood, basil, dragon's blood, thyme
CANDLES: orange, black, copper or gold
FLOWERS: mums, calendula, cosmos, wormwood, sage, apples, mugwort
INCENSE: cedar
STONES: smoky quartz, opal, Apache tears, black obsidian
You will find a Samhain Ritual for Remembrance and Release, along with spells,
ceremonies and recipes for 8 other sabbats, in my Wheel of the Year Guide.
SAMHAIN RECIPES
Celebrate the Witches' New Year by decorating your table with orange, black, copper and gold candles and seasonal arrangements of mums, calendula, cosmos, fresh apples and nuts. Serve with a glass of apple cider or ale.
Samhain Menu
Apple & Pecan Salad
Beef & Beer Stew
Pumpkin Spice Muffins
You may already have your own personal ritual for Samhain. My Simple Wiccan Magick Witches' Cook Book contains recipes for 8 sabbats and 12 full moon celebrations, a total of 56 easy and delicious recipes.
I'm so pleased that this cook book was recently in Amazon's Top Ten Best Seller list for Magick, Wicca and Witchcraft. It's been selling like hot cakes, or should I say, pumpkins in October. Many thanks to all who have enjoyed it.
Blessed be!
© 2013 – 2014, Holly Zurich. All rights reserved.