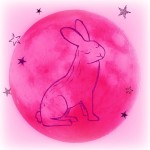 FULL AIR MOON IN LIBRA April 15, 2014
The full moon on April 15, 2014 is known as Pink Moon, Growing Moon or Hare Moon. Because it happens in the sun sign Aries, (March 21 – April 20), it is considered to be a full air moon in Libra.
The sun sign Libra is represented by a set of scales, so rituals to increase balance in your life and in your partnerships are suitable. This is also an ideal opportunity for spells to promote friendship and working with others. If there has been a rift with family or friends, healing spells are appropriate.
My Wheel of the Year book Simple Wiccan Magick Spells & Ritual Ceremony contains a Spring Equinox meditation for balance.
A total lunar eclipse also takes place on April 15, so it's an especially auspicious time to perform full moon spells and rituals as their potency will be greatly increased. Scientists are calling this a "Blood Moon," as the moon's proximity to the earth will give it an intense red glow.
April Full Moon Correspondences
Flowers: daisies and sweet peas
Stones: diamonds
Seasonal Menu Suggestions:
White Bean & Rosemary Dip
Potato Frittata
Rhubarb Crisp
You can use your own rituals and recipes or the ones in my Full Moon Spells & Rituals Guide. My Witches' Cook Book also has recipes for every full moon, plus the 8 Sabbats on the Wheel of the year, for a total of 56 recipes.
Blessed be!
© 2014, Holly Zurich. All rights reserved.