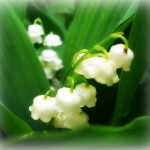 May 1st is Beltane, the traditional Wiccan celebration of fertility and creative energy.
Beltane is an ideal time for spells and rituals designed to bring love and creativity into your life. My Wheel of the Year guide has a simple spell and meditation designed to do just that.  You will need one red candle, one green candle, almond or festival oil and jasmine incense. During ritual, you will make a talisman to channel love and creative energy and to remind you daily of your intent.
You may already have a special Beltane ceremony, or you may want to create your own. The following information will be helpful.
Beltane Correspondences
Colours: green, red, white
Oil: almond, sandalwood, attraction oil
Philtre: sweet woodruff, roses, lovage, vervain, periwinkle, heather, lemon, mint, lemon balm, mistletoe, jasmine, damaina
Candles: red, white, green
Flowers: rose, ivy, sweet pea, lily of the valley, daisy
Incense: jasmine
Stones: carnelian, emerald, coral, lapis, gold, malachite
Beltane Menu
Decorate your table with seasonal flowers, such as roses, sweet pea, lily of the valley, daisies and greenery like ivy. Green and red candles symbolize the twin themes of love and creativity. Start your meal with a glass of mead, sparkling wine or Prosecco.
Cheese & Chive Wafers
Pasta & Fresh Vegetables
Honey-Almond Pound Cake
You will find recipes for the menu above in my Wheel of the Year guide. My Witches' Cook Book has recipes for every Sabbat, plus 12 full moons for a total of 56 recipes.
Blessed be and Happy Beltane!
© 2014, Holly Zurich. All rights reserved.