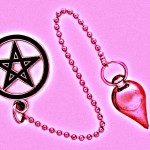 On June 13, 2014, a full fire moon will appear in the sign of Sagittarius. This June full moon is known as Mead Moon, Strawberry Moon, Honey Moon or Rose Moon. In Wiccan traditions, this is an ideal time for spells to bring about success in learning, education and long-term travel. Healing, forgiveness, independence and intuition are also highlighted.
You can use this full moon to cleanse and charge your Witches' tools and herbes, to prepare them for your spellwork for Midsummer, or the Summer Solstice, on June 21.
June Full Moon Correspondences
Flowers: roses and lavender
Stones: agate and pearls
Menu: Beer Can Chicken, Oven-baked sweet potato fries, Strawberry Cake
June Full Moon Pendulum Spell for New Beginnings
Are you unsure about starting a project, or which new idea will be the most productive? You might want to use a pendulum, like a small weight on the end of a chain or string, to tease out the answers from your unconscious mind.
My Full Moon Spells and Rituals eBook has a simple spell using a pendulum, or you can follow your own ritual to ask the same question. You should use a purple candle and frankincense oil and incense. Tapping into your subconscious and thus, the power of the universe, will help set your course with confidence. And don't worry about this full moon falling on Friday 13. Wiccans hold no superstitions about the number 13, so the full moon will still possess all of its magick and power.
Blessed be!
© 2014, Holly Zurich. All rights reserved.