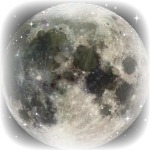 Full Earth Moon Spell in Taurus for Family Abundance
The full moon on November 6, 2014 November's is known as Beaver Moon, Dark Moon or Fog Moon. As full moons are always opposite the sun sign, this will be a full earth moon in Taurus.
Wiccans use this time for spells and magick rituals that promote family happiness and abundance. In my Full Moon Spells and Rituals eBook, I show you how to create an amulet to help attract joy and prosperity.
November Flowers: Chrysanthemum and flowers with fall colours
November Stones: Yellow Topaz and Citrine.
Full Moon Menu: Tomato  & Cucumber salad with yogurt dressing ~Three-Bean Chili ~ Fig Clafouti
Recipes for the above are in my Full Moon Spells eBook and Witches' Cook Book.
Blessed be!
© 2014, Holly Zurich. All rights reserved.