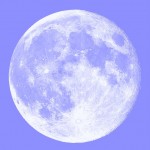 The March 5, 2015 full moon is called Worm Moon, Storm Moon or Crow Moon.  The ruling sun sign is Pisces, which gives us a full earth moon in Virgo.  Wiccan rituals include spells to purify the mind, body and soul. Nature always fills a void, so any negative energy that you release must be consciously replaced with positive vibrations.
As this full moon occurs during daylight hours in the western hemisphere, you should place your tools and talismans out for cleansing and charging on the evening of March 4th.  You might want to perform your ritual on that date as well.
In Australia and the east, the full moon reaches its peak in the morning of March 6, so you may perform rituals on the evening of the 5th.
March Correspondences:
Flowers: daffodils and jonquils
Stones: aquamarine and bloodstone
March Full Moon Spells & Rituals:
We often spend extra time indoors during winter and toxic energy can build up. My book Simple Wiccan Magick Spells for Everyday contains a ritual to cleanse and bless the home, so we will use this full moon to reduce any noxious vibrations within ourselves.
Spring Equinox March 20, 2014
This is the last full moon before the Spring Equinox on March 20 so it is an ideal time to cleanse and charge your Witches' tools and herbes for Ostara.
Advance Preparation
On the night of the full moon, you will take a bath with a special mix of cleansing herbes and meditate on the theme of spiritual cleansing and purification.  Later, during the ritual, you will write down any negative thoughts you've been feeling, fold them inside a black envelope and safely burn them.
March Full Moon Menu
Baby spinach with pine nuts and balsamic vinaigrette
Asparagus, Mushroom & Garlic Risotto
Cinnamon-Ginger Cupcakes
Find more information on the above rituals or recipes in my Full Moon Spells & Rituals eBook.
Blessed be!
© 2015 – 2016, Holly Zurich. All rights reserved.