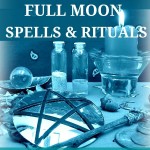 SUN IN TAURUS – April 21 – May 21 ~ FULL WATER MOON IN SCORPIO           
The full moon in May 10, 2017 is known as Flower Moon or Merry Moon.
It will occur on May 10th  at 5:42 PM in Eastern North America (Toronto and New York City), and two or three hours earlier further west and 5 or 6 hours later further west (United Kingdom).
A full moon in Taurus dictates a full water moon in Scorpio. Wiccan traditions state that this is an ideal time for spells and rituals to increase your personal power. If needed, my Full Moon Spells & Rituals eBook shows how to create a personal power talisman using a favourite piece of your own jewellery. If you've already created one, you may cleanse and charge it tonight.
May Correspondences
Flowers: lily of the valley and foxglove
Stones: Emerald and amber.
Suggested Menu
Simple Green Salad
Pasta with Clam Sauce
Lavender & Almond Butter Cookies
Recipes for 12 full moons and 8 sabbats on the Wiccan Wheel of the Year can be found in the Witches' Cook Book.
Blessed be and Happy Full Merry Moon!
© 2017, Holly Zurich. All rights reserved.