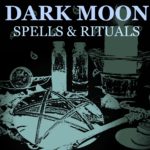 The May 2017 Dark Moon occurs on the 25th. This dark moon is special as it is a Super New Moon or Dark Moon. This means the new moon takes place when it is closest to Earth, giving it extra power.
The dark moon, or new moon, is the period after the waning moon and before the first crescent of light appears from the new moon. It's an ideal time to initiate change and renewal.  Modern Wiccans follow their pagan ancestors and use the magickal properties of different moon phases.  The Dark Moon is the ideal time to initiate change and renewal.
This month, we will focus on a dark moon spell to release regret. Although regret can be a negative emotional experience,  it can also be valuable, if we learn from it and release it.
My Simple Wiccan Magick Dark Moon Spells eBook has a ritual to help transcend negative emotional experiences. During the ritual, you will use Hyssop for cleansing and Jasmine for protection.  Lapis Lazuli will be your touch stone, used during the spell and as reminder after, to help dissolve emotional bondage.
Blessed be!
© 2017, Holly Zurich. All rights reserved.