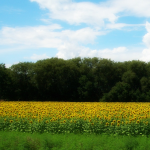 August 1st is the Witches' celebration of Lammas, one of the sabbats or festivals on the Wheel of the Year. Lammas is opposite to Imbolc on the wheel, so we now take heed of the sun going down and the daylight hours decreasing.
Lammas Correspondences
Spells:  riches, prosperity, appreciation
Colours: gold, yellow
Oil: heliotrope,frankincense
Incense: frankincense
Candles: yellow or gold
Flowers: gladiolus, nasturtium, yarrow, sunflower
Stones: aventurine, topaz, amber, cat's eye
Food & Drink: light red wine/chianti, ratatouille, cornbread, nasturtium & greens salad, watermelon, zucchini walnut cake
LAMMAS SPELL FOR PROSPERITY & APPRECIATION
My eBook Simple Wiccan Magick Spells and Ritual Ceremony has a Lammas spell for prosperity and appreciation. In order to receive more of anything in our lives, we must first appreciate what we already have. So, we give thanks to the Great Goddess as we review any unfinished business and plan to complete it before the autumn equinox.
LAMMAS ~ Menu & Recipes
Decorate your table with yellow and gold candles and gladiolas, nasturtium, yarrow and sunflowers. Serve a Chianti or light red wine and a mixed greens and nasturtium salad with raspberry vinaigrette before the main course of vegetarian ratatouille.
A slice or two of fresh watermelon compliments the Walnut Zucchini Cake.
LAMMAS WALNUT ZUCCHINI CAKE
Ingredients:
2 cups/500 ml zucchini, peeled & grated
¾ cup/175 ml walnuts, chopped
1/3 cup/75 ml raisins
1 ½ cups/375 ml sugar
1 cup/250 ml vegetable oil
2 eggs
1 tsp/5 ml vanilla
2 ½ cups/625 ml all-purpose flour
1 tsp/5 ml baking powder
½ tsp/2 ml baking soda
½ tsp/2 ml cinnamon
½ tsp/2 ml grated nutmeg
¼ tsp/1 ml allspice
1 tsp/1 ml grated orange peel
Directions:
Preheat oven to 350F/175C/Gas Mark 4.
Grease a 10" springform cake pan and set aside.
Scrub and grate zucchini (about 2 small) and squeeze out excess moisture.  Toss with walnuts and raisins and set
aside.  Place sugar, oil, eggs and vanilla in a large bowl and beat with an electric mixer until blended, set aside.
In a separate large bowl, stir together flour, baking powder, baking soda, nutmeg, cinnamon, all-spice and grated orange peel.
Gradually stir dry ingredients into egg mix.  Fold in zucchini and nuts.  Pour mixture into cake pan and smooth the top.
Bake in centre of preheated oven 55-60 minutes or until knife inserted into centre of cake comes out clean.  Cool on wire rack 10 minutes before removing from pan.
More seasonal recipes are available in my Wheel of the Year guide, or Witches' Cook Book also available as a PDF download on Smashwords.
Blessed be and Happy Lammas!
© 2013 – 2014, Holly Zurich. All rights reserved.