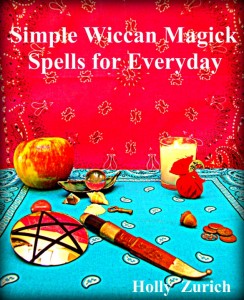 I finally published my eBook, Simple Wiccan Magick Spells for Everyday.  I had been working to compile this collection of my favorite witchcraft spells for a while and threw myself wholeheartedly into the project in the weeks before Yule 2011.
Though I always research my correspondences carefully, I spent a great deal of time fine-tuning my spell for Increased Wealth and Prosperity, making a new batch of Prosperity Pentacles and focusing my intent as I wrote the affirmation.  Not so surprisingly, the spell worked for me in several unusual ways.
First, I found money from our last garage sale ($219.00) in an old wallet, a possibility I mentioned in the ritual; I received a large unexpected cheque from a relative's estate, and my eBook sales have skyrocketed.
You might say these things could happen anytime, but I believe my hard work and thoughts surrounding my new book are the reason. I am so thankful for every small financial blessing, knowing it can lead the way to larger ones.
Now available at Amazon, Barnes & Noble, iTunes, Kobo and Smashwords.
Simple Wiccan Magick Talismans & Witches' Tools
Since ancient times, Wiccans have practiced the Craft and created magick using ritual ceremony and correspondences. Crucial to this custom are Witches' tools and talismans, powerful items that help focus energy around the altar in order to manifest the desired outcome of their spells.
In my newest eBook, I show you the mysteries behind primary Witches' tools like the blade or sword, the wand, the cup or chalice and the pentacle. Also described are the cauldron, the witches' cord or belt and any consecrated or charged jewellery.  Divining tools, such as Tarot cards, pendulums and Runes, as well as stones, herbes, secrets, talismans and the Book of Shadows are also explored, for they aid Wiccans in effectively practicing the many aspects of the Craft.
Learn how to create, cleanse and charge a talisman, weave a Witches' cord for protection during spellwork and turn your favourite piece of jewellery into a powerful charm for success. Available now at Amazon, Barnes & Noble, iTunes, Kobo and Smashwords.
Simple Wiccan Magick Witches' Cook Book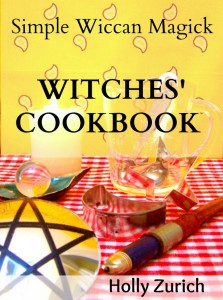 My fifth book on Wiccan traditions contains a collection of 20 seasonally-inspired menus with 56 delicious recipes for celebrating the 12 Full Moons and 8 sabbats on the Wheel of the Year. Compiled and expanded from the popular Simple Wiccan Magick books Spells & Ritual Ceremony and Full Moon Spells & Rituals, all recipes are newly revised with both metric and imperial measures for international cookery.
You may already have your own book of spells or be a Neo-Pagan who doesn't practice magick. However, if you celebrate any of the full moons or festivals on the Wheel of the Year, this cook book is for you, with easy-to-make, appetizing meals created to honour those special days.
Available now on Smashwords, Amazon, Barnes & Noble, iTunes and Kobo.
Bon appétit!
Simple Wiccan Magick Love Spells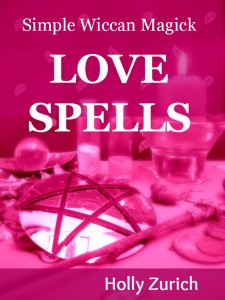 My sixth book on Wiccan traditions is Simple Wiccan Magick Love Spells.
Call forth the full intent and strength of your being with the most powerful spells we command. This collection features both quick love spells and traditional Wiccan full-length ceremonial rituals in an easy-to-follow, interactive format. A list of the best herbes for love magick, a glossary of Wiccan terms and a typical altar layout are also included.
Using your heart in this manner requires care, for you must be absolutely certain that your intention is true and fair and that you harm no one.
Before attempting any of these spells and rituals, I advise you to examine your motives and listen to your heart's answer. Only then can you proceed and only then will the universe be able to respond to your request. If you believe it will be so, then so it will be!
Love Spells is available now for you at Smashwords and at Amazon.com, Barnes & Noble , iTunes and Kobo.
Simple Wiccan Magick Spells & Rituals Collection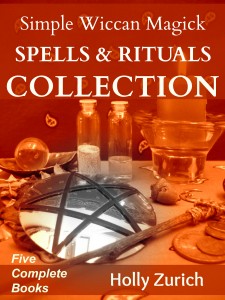 Channel the power of Wiccan magick and the Law of Attraction to focus your intent and guide your manifestations. Light on lore and heavy on practical magick, this collection of five updated books is an ideal reference guide for both novices and experienced practitioners, working alone or in a group.
Each ritual contains meditations, traditional correspondences, a quick spell and a complete ceremony. All have been thoroughly researched and tested and follow the philosophies of vibrational law. Full moon and Wheel of the Year recipes reflect seasonal influences and time-honoured customs.
The spells and rituals in these books will help to channel your energies and focus your intent. The meditations and affirmations act as reminders to think positively, feel happy and believe. When you follow these rituals regularly, magick happens, as your mind starts to automatically transmit positive vibrations and your dreams begin to manifest.
Now available at Amazon, Barnes & Noble, iTunes, Kobo and Smashwords.
Blessed be!
© 2012 – 2017, Holly Zurich. All rights reserved.