The perfect Wheel of theYear guide for busy Witches!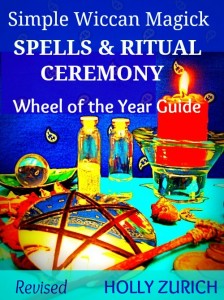 The magick spells, rituals and meditations in my best-selling eBook Simple Wiccan Magick Spells & Ritual Ceremony transform time-honoured traditions into simple ceremony. Use the power of your intent and the Witches' Wheel of the Year to find love, success, creativity and better health. All unfamiliar terms are identified (capitalized and/or bolded) and explained.
Why sift through books of Wicca history?  Simple Wiccan Spells and Ritual Ceremony provides useful references for all levels of practitioners. Supplies such as candles and herbes are listed for each festival and for the entire Wheel of the Year. Easy seasonal menus and recipes are included. Revised issue now available.
Ideal for ceremony work around the altar, alone or in a group, this book of spells and rituals can be used on its own or as an addition to other witchcraft books. The background information helps you create personalized rituals, potions and spells.
All correspondences have been thoroughly researched and tested and are in keeping with traditional practices. They have been presented in a straightforward format, designed for today's Witches.
All of my eBooks are available on Amazon Kindle, Kobo, Apple and Barnes & Noble. You can order a simple PDF download or sample up to 20% of each book at Smashwords.
Blessed be!
Holly
© 2011 – 2016, Holly Zurich. All rights reserved.