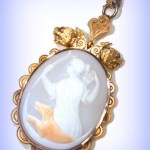 Would you like to create a good luck charm to enhance your personal power and charisma and increase your chances of success in any endeavour? Although Witches often design talismans filled with magickal herbs for specific reasons, you can substitute a favourite piece of your own jewellery to fill this need on a daily basis.
How to create a talisman for personal power
During your next Wheel of the Year or Full Moon ritual, cleanse a piece of jewelry that you wear regularly.
Place the jewelry on a square of gold cloth in the centre of your altar.  Carve your personal colour candle with your initials and the Rune symbol for Breakthrough.  You may also create your own symbol for transformation.
Anoint and light the candle and say the following affirmation aloud:
Fire and water, earth and air, magick favours those who dare.
All those who walk with spirits bold will taste the glory and touch the gold.
Close your eyes and breathe deeply and slowly.  Visualize yourself as a successful and charismatic person.  See yourself overcoming any obstacles on the path to success in both your personal and professional life. The more specific you can be the better.  Like the ancient alchemists, you have the Midas touch – anything you touch turns to gold!
When you are ready, pick up the piece of jewellery, take the ritual blade in your power hand, dip it into the bowl of moonwater and touch it to the jewellery, saying:
Moon & sun, silver and gold, Magick be given to this jewellery I hold. So Mote It Be!
Now, every time you wear this article of jewelry, the powers bestowed upon it by the Goddess will be yours to access.  When you are feeling powerful and successful, touch the jewellery and recall the affirmation.  This action will create a positive link in your mind. So if you are feeling less than enthusiastic or even despondent, touching the jewellery and recalling the affirmation will immediately lift your spirits.
Give thanks and close the Circle as usual.
Blessed be!
© 2011 – 2014, Holly Zurich. All rights reserved.