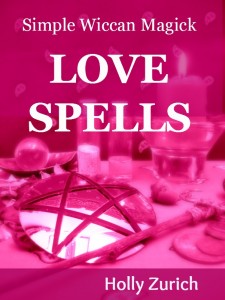 I have been working concurrently on two books and now my sixth book on Wiccan traditions – Simple Wiccan Magick Love Spells – has just been published.
Call forth the full intent and strength of your being with the most powerful spells we command. This collection features both quick love spells and traditional Wiccan full-length ceremonial rituals in an easy-to-follow, interactive format. A list of the best herbes for love magick, a glossary of Wiccan terms and a typical altar layout are also included.
Using your heart in this manner requires care, for you must be absolutely certain that your intention is true and fair and that you harm no one.
Before attempting any of these spells and rituals, I advise you to examine your motives and listen to your heart's answer. Only then can you proceed and only then will the universe be able to respond to your request. If you believe it will be so, then so it will be!
Love Spells is available now for you to preview or buy at Smashwords and at Amazon.com, Barnes & Noble , iTunes and Kobo.
Blessed be!
© 2013 – 2014, Holly Zurich. All rights reserved.