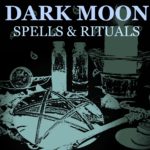 On August 21, 2017, there will be a Black Moon Dark Moon, which will coincide with a total solar eclipse, also known as The Great American Eclipse, because of the viewing area.
There are several definitions of a Black Moon – the second Dark Moon in a calendar month (like a Blue Moon is the second Full Moon in a calendar month), the 3rd New Moon or Dark Moon in a season of 4 Dark Moons, as each season normally has only 3 Full Moons and 3 Dark Moons. Black Moons also happen, albeit very infrequently, when the month of February has neither a Full Moon or Dark Moon and so both January and March will have two of each.
For this powerful and potent Black Moon Dark Moon on August 21st, I have chosen a spell to remove negative energy from your life. Negative energy is like all vibration – it causes an effect even though you can't see it. This ritual can help clear the path for you to manifest more positive emotions and thus attract more good vibrations.
It uses Sage to remove negative energy and Basil for courage. Your touch stone, which you will use during the spell and as a reminder afterwards, is Hematite for dispelling negativity. You will also learn a simple affirmation to increase your focus.
My eBook Dark Moon Spells and Rituals has 15 unique spells suitable for Dark Moon magick and you may choose to perform a different ceremony on this Black Moon Dark Moon.
Blessed be!
© 2017, Holly Zurich. All rights reserved.