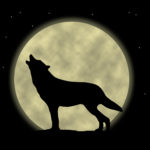 The full moon on January 1, 2018  is known as Wolf Moon, Quiet Moon or Chaste Moon. Because the full moon happens while the sun sign is Capricorn, (December 22 – January 20), this is a full water moon in the opposite sign of Cancer.  This is also a Supermoon, as the moon is closer to the earth than usual. This is also the first of 2 full moons in January 2018. The second full moon, which will be a Blue Moon,  is on  January 31st and is also a Supermoon
The first January full moon occurs at 9:24 PM EST, so you may perform your spells and rituals right on January 1st.
January flowers are carnations and snowdrops.
January stones are garnet and jet
FULL WATER MOON IN CANCER  
A full moon in Cancer means you might be more sensitive to the thoughts and feelings of others, especially if their thoughts are negative. Traditionally, love spells, as well as spells for a happy family life, are popular during  a Cancer full moon. This is also an ideal time for cleansing and blessing rituals, which you may find in my Simple Wiccan Magick Spells for Everyday eBook.
FULL WATER MOON IN CANCER LOVE SPELL
Do you want romantic love, a new partner or do you want to reignite the romance with your current companion?  Do you want more harmony among your family and friends or do you want to love yourself more? These are the questions to ask before you proceed with any love spell. My Simple Wiccan Magick Full Moon Spells & Rituals eBook contains a ritual where you will create a talisman to help you remember the energies of the ceremony.
You will need a rose quartz stone, vervain oil and incense and a pink candle.
FULL WOLF MOON MENU
January Menu
Tuna Casserole Niçoise
New Potatoes
Tarragon Green Beans
Apple Clafouti
Blessed be!
© 2017, Holly Zurich. All rights reserved.