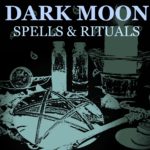 The November 2017 Dark Moon will occur on the 18th. As ancient civilizations used the ever-changing cycles of the moon to plan and chart time, they also discovered that special energies were active during the different phases. Today, these connections are being rediscovered as we seek to fulfil our dreams and align ourselves with the universe. The dark moon is the perfect time to initiate change and renewal.
There is some ambiguity around the terms dark moon and new moon. For our purposes, we will follow the astrological version, which means the period after the waning moon and before the first crescent of light appears from the new moon. In ancient times, the dark moon was called old moon and was represented by the dark goddesses of Kali, Hecate, Metztli and Trivia. Some people refer to it as the new moon.
Dark Moon Spell to Master Stress
This month, we will focus on a dark moon spell to master stress. Some people accept stress as a by-product of modern times, but it can lead to mental and physical breakdown. This ritual will help you to focus on the good things in your life that can be difficult to appreciate when stress clouds your vision.
My Simple Wiccan Magick Dark Moon Spells eBook has a ritual to help transcend this state of mind. It uses Borage to fortify your inner self and Celery Seed to improve your concentration. Your touch stones, which you will use during the spell and as a reminder afterwards, are Smoky Quartz and Moonstone. You will also learn a simple affirmation to help keep you focused.
Blessed be!
© 2017, Holly Zurich. All rights reserved.