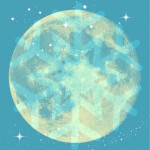 The full moon on December 3, 2017 is known as Cold Moon, Open Moon or Big Winter Moon. It's a Super Moon, which means it is closer to Earth than usual, so you can expect extra energy for your spells and rituals.
This super full moon falls in the opposite sun sign of Gemini, so in Wiccan traditions, it's the perfect time for spells and rituals to enhance your communications skills. It's also ideal for renewing contacts, travel and face-to-face meetings.
It occurs in the morning of December 3 (10:46 AM EST), so you may want to perform your spells and rituals on the evening of December 2nd.
December Correspondences:
Flowers: Narcissus, poinsettia and holly
December Stones: Blue Zircon and Turquoise
December Full Moon Menu
Bacon & Leek Frittata
Chocolate & Coffee Truffles
My Simple Wiccan Magick Full Moon Spells & Rituals eBook contains a spell for better communication. You can perform either a quick spell or full ritual ceremony; both are available in the book. During the spell, you will cleanse and charge a special pen, which you will use in your Book of Shadows and for writing letters.
This is the last full moon before Yule on December 21st, so be sure to cleanse and charge your tools in the light of the full moon.
Full Moon recipes are found in my Full Moon guide and also in my Witches' Cook Book.
Blessed be!
© 2017, Holly Zurich. All rights reserved.